Eww Ewww Ewww Eww!: Man gets eel stuck in his pee'pee!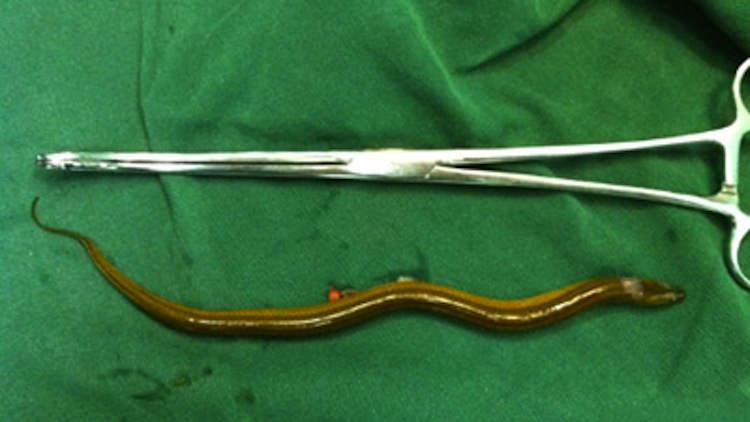 Im just telling ya'll that the thing in his pee'pee was no eel, it was my penis. Wait what? Yeah , that's right, a penis within a penis. ITS INCEPTION ALL OVER AGAIN! *sad face*
WARNING: Any guys reading this, hold your pee'pee's now! Zhang Nan went to a his local beauty spa, and requested to have one of those eel-fish spa thingys. Before we move on, i just want to clear up, WHAT IN THE HOLY HELL IS UP WITH PEOPLE WANTING TO BE EATEN BY PENIS SHAPED THINGS. I mean seriously, that's what Bukakae is for (*deep black guys voice* Awhhhhh yeahhhhh) Anyway, half way through his treatment, he felt a really sharp pain in his tinker (this is where it gets sick):
'I climbed into the bath and I could feel the eels nibbling my body. But then suddenly I felt a severe pain and realised a small eel had gone into the end of my penis

*throws up all over keyboard* I wish this was the worst of it, but no, it just keeps it on going, THE HORROR! 
'I tried to hold it and take it out, but the eel was too slippery to be held and it disappeared up my penis"
AHHH why did i have to choose this story, now i'm trying to guess where letters are on my keyboard as there is sick everywhere. SEE WHAT YOU GUYS DO TO ME, I QUIT! But seriously, i wish this was the end, but it gets even worse. The doctor who led the operation to take the eel my penis out of his penis said:
"The diameter of the urethra in a man's penis is just a little narrower, but because eels are quite slippery, its body worked as a lubricant and so it got into the penis smoothly,'
Atleast we all now know that to enter a man's pee-pee all you need is Lube, AND LOTS OF IT.
Lesson Learnt: Lube can sort out any situation, like that time me and your mom did tha………